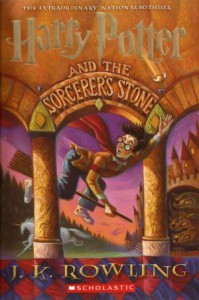 I first read this back in 1998, and I re-read it a few times in preparation for reading later books as they came out, so this was probably my fourth or fifth re-read (as part of Litchick's EPIC Harry Potter Group Read). I wish I could go back in time and write this review after reading it for the first time, because once you've read the whole series, there's no way to read the early books without knowledge of what's coming. Still, I will endeavor to put that knowledge out of mind as much as possible, and I promise this review will be spoiler-free.
If you have never read Harry Potter (and it's incredible to think there are young people coming up all the time who never have), here's what all the fuss is about: J.K. Rowling's magical world touches our world just enough to seem familiar and plausible, which makes it so much more compelling than fantasy stories where the setting is completely divorced from our reality. Any eleven year old can cherish the hope that he or she might get a mysterious parchment letter offering a spot at Hogwarts School of Witchcraft and Wizardry, and Rowling's world-building is so completely flawless that one can imagine exactly how one's life would change if such a letter did come. That is the appeal of the Harry Potter series: it invites you in and makes you feel welcome.
The story begins with Harry, a small, slight boy on the cusp of his eleventh birthday. He has been brought up by his aunt and uncle, the Dursleys, after the death of his parents when he was an infant. The Dursleys are odious people, very similar to Roald Dahl characters in their intense unpleasantness, which makes Harry's sense of liberation when he learns of his place at Hogwarts all the more delicious.
When you re-read The Sorcerer's Stone after reading the later books, you can see all of the layers upon layers of plot planning and foreshadowing (and the very occasional continuity error) that make it clear that Rowling must have had the entire series planned out in infinite detail even from the very beginning (and you will marvel at her brilliance), but when you read it the first time, you won't need to care about any of that. You will never feel like the story is holding back or keeping necessary information from you (though it is): each book will tell you exactly as much as you need to know for that story, and though all of the books build upon previous books, each book contains its own, complete plot arc, so you can savor the adventures of each year of Harry's schooling (each book corresponds with one year at Hogwarts) and not worry about being left unsatisfied with a gutwrenching cliffhanger if you can't read the entire series in an epic Harry Potter binge. (I'm looking at you, Karen Marie Moning.)
The other thing that always strikes me about the genius of this series is the way the books grow with the characters. The Sorcerer's Stone is a children's book, well-suited for kids about eleven years old (as old as Harry is in the story): it is relatively short, the chapters are packed with adventure and not a lot of introspection by the characters, and Harry cares about the things children that age care about -- food, doing his best in school, hanging out with friends, food, Quidditch, finding a place to belong, food, triumphing over evil (be it classroom bullies like Malfoy or the greater evil that is the dark wizard, Lord Voldemort), food. As the series goes on, the stories become more mature and complex as Harry becomes more mature and complex, so that the last book is as appropriate for readers in their late teens as this first book is for youngsters on the cusp of the great, miserable, terrifying, transformative adventure that is adolescence.